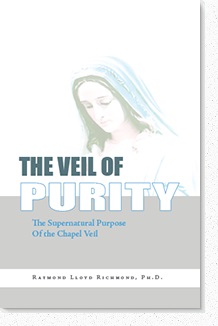 Sadly, many women who wear a veil do so for the wrong reasons, and most women who refuse to wear a chapel veil don't understand its real purpose.
So, should women wear a chapel veil out of duty? No. Should they wear a veil only at the Latin Mass? No. Is the veil a sign of oppression of women? No; in fact, it's just the opposite.
If women dress modestly at all times they will be a holy influence on men and society, and if they cover their heads when praying they will protect themselves spiritually from those who feed upon irreverence and impurity.
Women have a crucial mission—a mission of supernatural purity—in liberating themselves, the Church, and society in general from the oppression of irreverence and impurity that, day by day, are increasingly attacking us all.


CONTENTS
Preface | Questions | Social Dignity | Demonic Influence | Social Acceptance |
Angels and Fallen Angels | The Example of Mary | Woman Is the Glory of Man |
Wearing a Veil Properly | Summary
Notes
Paperback book

eBook

5.25" x 8"
37 pages
ISBN: 979-8398527612

Formatted for Kindle devices and Kindle apps for iPad, iPhone, iPod touch, PC, Mac, Blackberry, and Android-based devices.

Order from Amazon.com

$9.99
The Veil of Purity



Buy from Amazon.com

$6.50
The Veil of Purity