HOW USELESS TO KEEP MY HEART PURE AND WASH MY HANDS IN INNOCENCE WHEN I AM ATTACKED DAY AFTER DAY, AND MOCKED EVERY MORNING.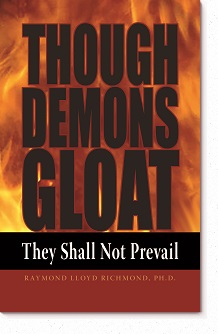 But if we should think like that, we would abandon the faith of our Fathers.
Yes, though we are attacked by liberal activists from without and by apostasy from within, the true Church—that is, the body of those who remain faithful to Church tradition—weeps, and she prays, because she knows the fate of those who oppose God.

Our enemies might fear love, and they can push love away, but they can't kill it. And so the battle against them cannot be fought with politics; it requires a pro­found personal struggle against the immorality of popular culture. The battle must be fought with love for God through pure and chaste lifestyles lived from the depths of our hearts in every moment.

With compassion and clarity, Raymond Lloyd Richmond, Ph.D. explains the psychological and spiritual aspects of a growing battle with evil that looms in front of every Catholic today.

CONTENTS
Preface



Part One: The Faith
Real Love | The Reason for Doctrine | Faith | Belief | Tradition | Judgment | Heresy | Sexuality and Love



Part Two: Refuge
Baptism | Chastity | The Divine Liturgy | Confession | Spiritual Fruits



Part Three: Questions and Answers
The True Church | The "Church" | The Dead | A Spiritual Life | Evil | Ruthless | The Call to be Holy | Sports | Entertainment | Contemptus Mundi | Living Righteously | Triumph and Revenge | Temptation | Conscience | Fire and Brimstone | Honor | The Vanity of Protest | Terrorism | Social Justice | Peace | Quietism? | Predestination | End Times



Appendix I: Identity
The Problem | Encounter and Trauma | Fragmentation | Identity and Sexuality | Loneliness



Appendix II: Death—and the Seduction of Despair
Introduction | Repetition | The Beginning | Repetition Revisited | Rebirth



Appendix III: How to Pray
Asking for Guidance | Praying Constantly | Feelings in Prayer | Distractions During Prayer | When You Don't Receive Answers to Your Prayers | Vocal Prayer and Mental Prayer | Warnings



Appendix IV: Terror
The Incubus and Succubus | Someone's Prey



Notes



Index
E-book

Paperback book

In process.


5.25" x 8"
392 pages
ISBN-13: 978-1514373385

Order from Amazon.com

$22.79
Though Demons Gloat


International Orders:
UK and some European customers will avoid customs delays and save on shipping costs by ordering locally through
Amazon.co.uk
Amazon.de
Amazon.fr
Amazon.es
Amazon.it