A COLLECTION OF PSYCHOLOGICAL TEXTS
THAT SPEAK TO THE SPIRITUAL DEPTH OF LIFE
Today it's all too easy to misunderstand life by confusing the truth of tolerance with the fraud of acceptance, the truth of holiness with the fraud of pride, and the truth of love with the fraud of sensuality.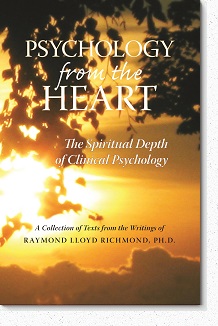 A collection of texts from the writings of Raymond Lloyd Richmond, Ph.D.
PSYCHOLOGY has too often been preoccupied with the pursuit of happiness, and it has missed the point about helping individuals understand life and find a personally meaningful—and practical—sense of direction. Psychology itself cannot offer any meaning to life, but it can help individuals disentangle themselves from the snare of illusory social identifications that keep us trapped in spiritual blindness and pull us backwards into self-destruction.
I can offer no "proof" of God, nor can I prove that spirituality is anything more than a figment of our imaginations. But look at it this way: If you value spirituality, what do you have to lose? Mediocrity. What do you have to gain? Everything.

Includes chapters on
Anger | Competition | Culture | Depression | Despair | Evil | Family | Fear | Forgiveness | Guilt | Hate | Healing | Honesty | Hope | Humility | Identity | Love | Mercy | Peace | Prayer | Pride | Romance | Self-sabotage | Sin | Sorrow | Spirituality | Spiritual Growth | Suffering | Suicide | Trauma | Trust | The Unconscious | Victimization
E-book

Paperback book

Formatted for Kindle devices and Kindle apps for iPad, iPhone, iPod touch, PC, Mac, Blackberry, and Android-based devices.

Buy from Amazon.com

$8.75
Psychology from the Heart


5.25" x 8"
260 pages
ISBN-13: 978-1467907651

Order from Amazon.com

$15.95
Psychology from the Heart


International Orders:
UK and some European customers will avoid customs delays and save on shipping costs by ordering locally through
Amazon.co.uk
Amazon.de
Amazon.fr
Amazon.es
Amazon.it