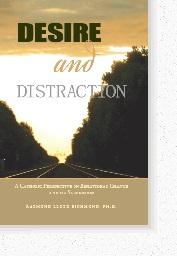 If you desire success, you will likely achieve it, but if, somewhere deep in your heart, you are distracted with a desire for failure, then all your attempts to achieve success will fail.
The psychological relationship between "want" and "desire" explains why changing problematic habits or addictions can be especially difficult. As much as someone might want to start exercising or stop using drugs or alcohol, for example, there can be a desire to maintain an old, dysfunctional behavior for the sake of the familiarity, comfort, hate, or self-punishment the behavior produces. Consequently, forcing behavioral change with sheer discipline will likely fail unless the underlying desire to fail is overcome with a different desire.

So now, and in every moment until you die, you will have a choice between failure and success. That decision has to come from you. You will go where you desire.


CONTENTS
Part One: Desire

Forced to Act | Psychological Motivation | Pushed By the Drive | Pulled By Desire |
Misdirected Desires | Triggers For Impulses | Desire For the Holy | Self-destruction |
Putting It All Together | A Personal Conversation | With Trials As a Teacher

Part Two: Distraction

Distractions | Understanding Distractions | Fantasies | Emotions and Thoughts |
Distractions and Fantasies in General | Distractions About Despair |
Distractions About Uncertainty | Sexual Distractions | Distractions About Grandiosity |
Distractions About Hate | Distractions About Self-blame | The Jesus Prayer | Peace |

Notes

Appendix I: Demonic Influence

Index
Paperback book

eBook

5.25" x 8"
103 pages
ISBN: 979-8852945907

Formatted for Kindle devices and Kindle apps for iPad, iPhone, iPod touch, PC, Mac, Blackberry, and Android-based devices.

Order from Amazon.com

$10.99
Desire and Distraction



Buy from Amazon.com

In process