We must not be surprised when we hear of murders, of wars, of hatred.
If a mother can kill her own child, what is left but for us to kill each other?

—attributed to
Blessed Mother Teresa
Learning How to Pray | Spiritual Counsels | Books | About CSF

IMMACULATE HEART OF MARY, PRAY FOR US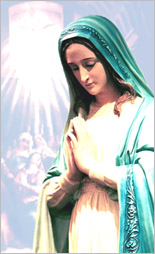 Come Holy Spirit, send your light and truth into the minds of those assisting at or requesting services from all facilities performing abortions. Inspire them to recognize the horrific offense abortion is to You and to all humanity.
Penetrate their hearts that they may know the great love You have for every child in the womb.
Redirect the talents of all medical professionals that they may use their skills to protect life for your greater glory.
Enlighten the minds of those procuring abortions that they may seek other life-giving alternatives to their distress, and guide all concerned to pray and assist in whatever solutions they can provide.
Through the intercession of Your holy Spouse, Our Lady of the Immaculate Conception, we make this prayer in the name of our Lord Jesus Christ who, with you and the Father, lives and reigns for ever and ever. Amen.

CORAZÓN INMACULADO DE MARÍA, RUEGA POR NOSOTROS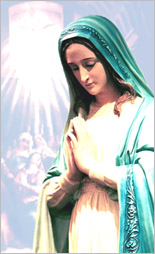 Ven, Espíritu Santo, infunde la luz de tu Verdad en las mentes de todas los que trabajan en la clínica de abortos de [mencione aquí la clínica de abortos en particular por la que Ud. desea interceder].
Permíteles ver que el aborto constituye una ofensa horrorosa para Dios y para la humanidad.
Penetra en sus corazones de modo que conozcan el gran amor que tú tiene por los niños en los vientres de sus madres.
Dirige los talentos de las personas que realizan los abortos para que puedan encontrar un trabajo diferente que sea fructífero y que sea para tu mayor gloria.
Ilumina las mentes de todas aquellas personas que desean obtener un aborto para que solucionen su situacion con otras alternativas que respeten la vida, y muéstranos a nosotros, que pedimos por ellas, las soluciones que les podríamos ofrecer.
Por la intercesión de tu Santísima Esposa, Nuestra Señora del Inmaculada Concepción, hacemos este rezo a través en el nombre nuestro Señor Jesucristo que, con tu y el Padre, vive y reina por los siglos de los siglos. Amen.
| | | |
| --- | --- | --- |
| | No debe sorprendernos cuando oimos de asesinatos, de guerras, de odios. Si una madre puede matar su propio niño, ¿que nos queda sino que nos matemos los unos a los otros? | |
| | —atribuido a la Beata Madre Teresa | |