We have already seen snowstorms, disappearing airplanes, earthquakes, sinking ships, and radical ideologies of hatred. What will the future hold? More earthquakes? Airplane crashes? Volcanoes? Floods? Fires? Tornadoes? Global climate chaos? Diseases? Shootings? Bombings? Wars?
Are you psychologically prepared?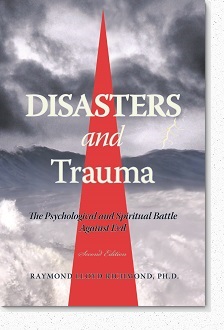 WARS, terrorism, and man-made and natural disasters are overwhelming our societies, and neither our governments nor our mental health systems really understand what is looming in front of us. This book addresses the psychological and spiritual components of trauma and evil that are critical to coping with unexpected and shocking reality.
An event is traumatic because it disrupts your previously secure sense of self. Consider that wild animals live with a constant, sharp awareness of perpetual danger, yet most people live with a naive—and deceptive—sense of safety and security to the point of denying their basic vulnerability and fragmented sense of self. So when something disastrous happens, the psychological damage from the shattering of your illusions about life and identity may be more problematic than any physical damage.


CONTENTS
Preface



Disasters and Trauma
(Includes information about the Imaginary, the Real, and the Symbolic; maladaptive coping strategies; spiritual growth; breaking the cycle of blame and hatred)



Evil
(Includes information about the psychological and spiritual nature of evil and demonic influence)



Terrorism
(Includes information about the relationship between social fraud and hatred)



Cultural Violence
(Includes information about the relationship between family dysfunction and cultural violence)



Good from Evil
(Includes information on how good can come from evil)



Conclusion



Notes



Subject Index
E-book

Paperback book

Formatted for Kindle devices and Kindle apps for iPad, iPhone, iPod touch, PC, Mac, Blackberry, and Android-based devices.

Buy from Amazon.com

$6.50
Disasters and Trauma


5.25" x 8"
88 pages
ISBN-13: 978-1499154450

US orders:
Buy direct from the printer, CreateSpace—and save me from paying Amazon.com fees.

$7.94
Disasters and Trauma


International Orders:
CreateSpace ships internationally from the US; see their Shipping Rates. They also have printing facilities in the UK and Europe that are used when orders are placed through the Amazon.com network. Therefore, UK and some European customers will avoid customs delays and save on shipping costs by ordering locally through
Amazon.co.uk
Amazon.de
Amazon.fr
Amazon.es
Amazon.it