Deeply profound and yet elegantly simple insight into
ANGER AND FORGIVENESS

A book that provides much needed clarity about two topics often misunderstood in contemporary culture.

Written in non-theological language yet
COMPLETELY FAITHFUL TO CATHOLIC TRADITION!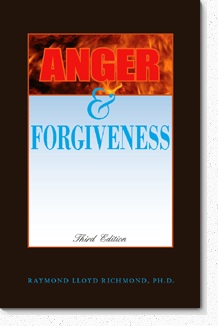 This new Third Edition as an e-book (2010) and as a paperback book (2011) incorporates many additions and changes to the text made since the printing of the previous edition in 2006.
MOST OF US carry more anger in our hearts than we are capable of admitting even to ourselves. As a result, we often feel stuck in lives of unfulfilled potential, unending resentments, and physical illness.
In this book, Dr. Richmond explains the deep psychological implications of anger and forgiveness and shows how to turn the emotional wounds of daily life into psychological growth.
The book includes a list of emotions to increase your emotional awareness and also provides information about how anger and a lack of forgiveness can lead to clinical depression.
Compiled from several pages on my website A Guide to Psychology and its Practice and attractively organized
into the convenient format of a book.

CONTENTS
Part One: Anger
Apathy / Anger / The Starting Point: Three Steps / The Popular Response: Revenge and Violence / The Solution: The Fourth Step / Victim Anger / Hidden Anger at the Father / Summary / A Cultural Note / Just the Facts, Please / A Personal Explanation

Part Two: Forgiveness
Forgiveness and Healing / Reconciliation / Penance: Confession, Repentance, and Penalty / The Psychology of Forgiveness / The Problem of Failed Reconciliation / Premature Forgiveness / Repairing the Damage / Suggestions / A Personal Explanation

Appendix I: A List of Emotions

Appendix II: Depression and Suicide
Background | The Rest of the Story | Repressed Anger | Shame and Guilt | Child Abuse | A Subtle Deception | The Real Cure
E-book

Paperback book

Formatted for Kindle devices and Kindle apps for iPad, iPhone, iPod touch, PC, Mac, Blackberry, and Android-based devices.

Buy from Amazon.com

$8.75
Anger and Forgiveness


5" x 8"
114 pages
ISBN-13: 978-1463782658


Order from Amazon.com

$10.55
Anger and Forgiveness


International Orders:
UK and some European customers will avoid customs delays and save on shipping costs by ordering locally through
Amazon.co.uk
Amazon.de
Amazon.fr
Amazon.es
Amazon.it