Bound with thorns . . .
Ever bleeding . . .
Exposed for all to see . . .
If you dare to say, "Make my heart like unto Thine,"
then don't complain when oppression falls on you.
Learning How to Pray | Spiritual Counsels | Books | About CSF
Afflicted by the outrages of indifference, ingratitude, and contempt that the Sacred Heart of Jesus receives from this world, say this prayer frequently, and especially on the First Friday of each month. This adapted version of the prayer is to be said privately. (The original prayer was prescribed by Pope Pius XI to be recited on the feast of The Most Sacred Heart of Jesus.)

SWEET Jesus, whose overflowing charity for mankind is disparaged by so much forgetfulness, negligence, and contempt, behold me eager in my humble act of homage to help repair the cruel indifference and injuries to which Your loving Heart is everywhere subject.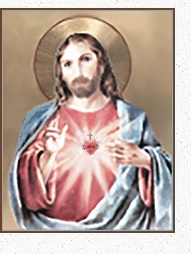 Mindful alas! that I myself have had a share in such great indignities, which I now deplore from the depths of my heart, I humbly ask Your pardon and declare my readiness to atone by voluntary expiation not only for my own personal offenses but also for the sins of those who, straying far from the path of salvation, refuse in their obstinate infidelity to follow You, their Shepherd and Leader, or, renouncing the vows of their baptism, have cast off the sweet yoke of Your law.
I am now resolved to expiate the deplorable outrages committed against You. I am determined to make amends for the offenses against Christian modesty in lust-provoking dress and behavior; for ubiquitous profanity; for rampant fornication and adultery; for the defilement inflicted on the Sacrament of Holy Matrimony by lust and divorce; for the desolation and suffering caused by abortion; for the shameful proliferation of pornography; for the propagation and endorsement of homosexual behaviors; for the lies and disfigurement wrought by transgender ideology and the resulting psychological disorder inflicted on children; for the diabolical effects of drugs, especially marijuana; for the foul seductions laid to ensnare the feet of the innocent through entertainment and social media; for the dark practices of witchcraft and occult arts; for the frequent violation of Sundays and holy days; and for the shocking blasphemies uttered against You and Your Saints in a culture of ever deepening apostasy and evil.
I wish also to make amends for the profanation, whether by conscious neglect and irreverence or by terrible acts of sacrilege, of the very Sacrament of Your divine love; for the heresies and idolatries committed by Your priests and even by Your Vicar [1] on earth; for the crimes Your bishops and priests commit in covering up their own sins, especially of pedophilia; and lastly for the public crimes of nations—and indeed even Catholic politicians and teachers—who resist the rights and the teaching authority of the Church which You have founded.
Would, O divine Jesus, that I were able to purge such abominations from this world. But I can purge them from my own heart. So I now offer, in reparation for these violations of Your divine honor, the satisfaction You did once make to Your eternal Father on the cross and which You continue to renew daily on our altars; I offer it in union with the acts of atonement of Your Virgin Mother and all the Saints and of the pious faithful on earth; and I sincerely vow to make reparation, as far as I can with the help of Your grace, for the increasing neglect of Your great love and for the sins I and others have committed in the past.
Henceforth I will endeavor to live a life of unwavering faith, of purity of conduct, and of conscientious observance of the precepts of the Church and Holy Scripture. And I promise, through my own personal example of a holy lifestyle, to inspire as many as possible to follow You.
O Lord Jesus, through the intercession of the Blessed Virgin Mary, our model in reparation, deign to receive the voluntary offering I make of this act of expiation; and by the crowning gift of perseverance may I remain faithful unto death in my love and the allegiance I owe to You, so that I may one day come to that blessed home where You with the Father and the Holy Spirit live and reign, one God, for ever and ever. Amen.
Adapted by Raymond Lloyd Richmond, Ph.D.
Notes.
1. Can a pope fall into heresy or idolatry? Isn't he infallible? Well, a pope "enjoys infallibality" when he "proclaims by a definitive act a doctrine pertaining to faith or morals" (Catechism of the Catholic Church, 891). When he does not pronounce in a definitive manner, but rather proposes a matter of his own personal opinion, he is guided by "divine assistance" (CCC, 892), yes, but guided does not mean infallible; in such a case a pope could just as well be "guided" by diabolical temptation.